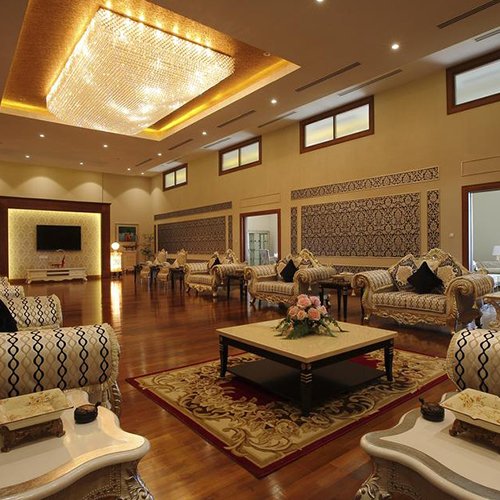 Horizon Lake View Resort creates living lifestyle with each of its 170 spacious rooms, which is unrivalled in the city. Each room is so comfortable you would be content to stay here your whole trip, but you tell yourself there is much more to explore at your doorsteps. Head out to watch the beautiful sunset over-looking the lake and enjoy a chilled glass of chardonnay while watching the sun goes down or ride on bicycle along the lake.

An array of cuisines awaits you after sundown, from western to local in Summerfield all day dining café or Cantonese cuisine in Xin Tian Di our Chinese Restaurant for each of your evenings and chill out at our Diplomat Bar listening to world music or watch your favourites sports channel. The resort is the perfect venue for meetings, incentives, conferences and exhibitions with capacity up to 3,000 persons in its 2 Grand Ballroom, 6 break-out seminar rooms and state of the art audio visual to complement the events.

Address : Taw Win Yadanar Road, National Guest House, Dekkhinathiri Township, Nay Pyi Taw, Myanmar.
The Thingaha Hotel is situated in the very heart of Nay Pyi Taw, the new capital of Myanmar and always there for the weary business for a place to relax aftera day's workor a family on a visit to see sights of the city.

Built and opened in2006. The Thingaha Hotel is the pre-eminent symbol of Eden Hotels & Resorts. It is the leader in the development of thehospitality industry in Myanmar. Spread over fifty three acres The Thingaha Hotel is a showcase of new modern hotel development in Myanmar.

Address : Yaza Thingaha Road, Hotel Zone, Nay Pyi Taw, Myanmar.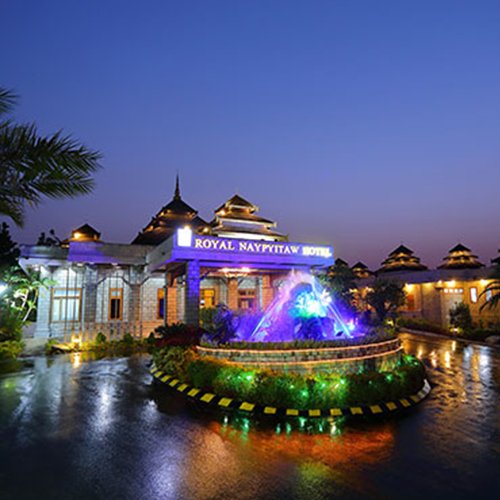 Naypitaw is a city in Mandalay Division Myanmar, located 336km from Yangon. Naypyitaw declared Myanmar's New Capital on 1st January 2006. Naypyidaw is a unique city in the region. Royal Naypyitaw Hotel, as a name, the Hotel is everything royal from very detail. The hotel set on own 30 acres of landscape garden. Its interior design devotes traditional architectural style combines with modern facilities.

For those who wish to relax and pamper themselves, we are offering a beauty salon, fitness centre, a swimming pool with a jacuzzi as well as a Spa with message and aromatherapy. All are available on a 24 hour basis.

Address : No. 5, Yazathingaha Road, Hotel Zone (1), 11221 Nay Pyi Taw, Myanmar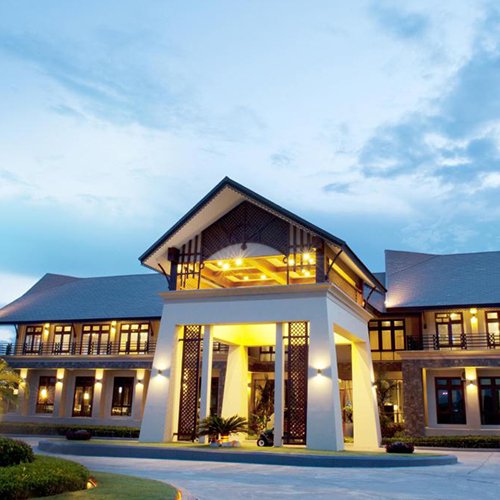 The Emerald Palace Hotel in Nay Pyi Taw is conveniently located on Yarzathingaha Road just a short drive to various Ministries, the Yangon-Mandalay Highway, and the Nay Pyi Taw International Airport.

Accommodations range from Deluxe Rooms to three categories of private Villas, while facilities include the Emerald Restaurant as well as meeting & event capabilities for up to 150 persons.

Visitors to the Myanmar Gem Emporium will appreciate the 5-minute drive to the hotel and two major shopping centers also located less than 5 minutes away. Meanwhile, the Nay Pyi Taw International Airport is just 16 kilometers or 15 minutes by car from the hotel.

Address : 40/41 Hotyel Zone(1) Dekkhina Thiri Township, Yarza Thingaha Road, Nay Pyi Taw, Myanmar.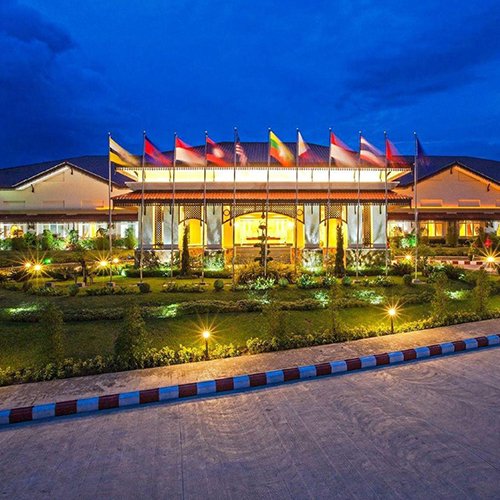 Grand Amara Hotel is a brand new hotel and meant for Head of States, Ministries, Delegations and Luxurious Customers. It has Myanmar Cultural style with modern features. It can host international guests for meeting and convention in it spacious rooms. All amenities and facilities offer highest standard and service to fulfill customer's satisfaction.

Address: No.(5,6), Jade Villa,DakkhinaThiriTownship,NayPyiTaw,Myanmar.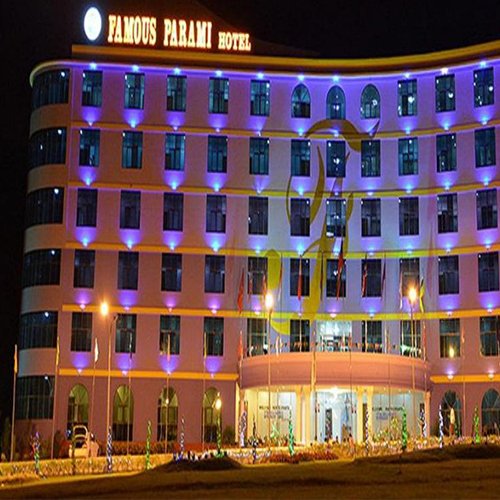 laced in Nay Pyi Taw, Famous Parami Hotel offers comfy rooms and a range of facilities. All guests can indulge themselves in a heart-shaped outdoor pool and enjoy the relaxation at the sun loungers. Free WiFi access is featured throughout the property. For convenience, Famous Parami Hotel provides express check-in and check-out services. Private parking and drop off areas facilitate all drivers. Meals are served at the on-site restaurant.

Every room at this hotel is air conditioned and equipped with a satellite flat-screen TV. Certain units have a seating area for guests to relax in. Extras include an electric kettle and slippers. The en suite bathroom comes with a shower, a hairdryer and free toiletries.

Car hire is possible to be arranged at the hotel. The nearest airport is Nay Pyi Taw International Airport, 16 km from the property.

Address : DEH-16, Dekkhina Thiri Hotel Zone 3, NayPyiTaw, 11101 Nay Pyi Taw, Myanmar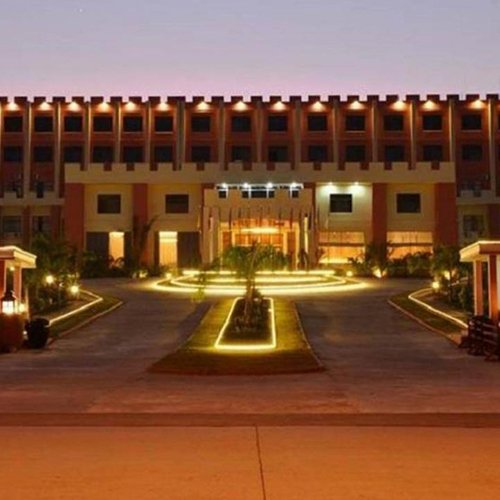 When visiting Nay Pyi Taw, you'll feel right at home at Great Wall Hotel Nay Pyi Taw, which offers quality accommodation and great service. Set 18.3 km from the excitement of the city, this 4-star hotel commands an excellent location and provides access to the city's biggest attractions. With its convenient location, the hotel offers easy access to the city's must-see destinations.

The facilities and services provided by Great Wall Hotel Nay Pyi Taw ensure a pleasant stay for guests. Free Wi-Fi in all rooms, 24-hour front desk, 24-hour room service, luggage storage, Wi-Fi in public areas are just a few of the facilities that set Great Wall Hotel Nay Pyi Taw apart from other hotels in the city.

Address : Yarza Thingaha Road, Oattara Thiri Township, 11111, Myanmar.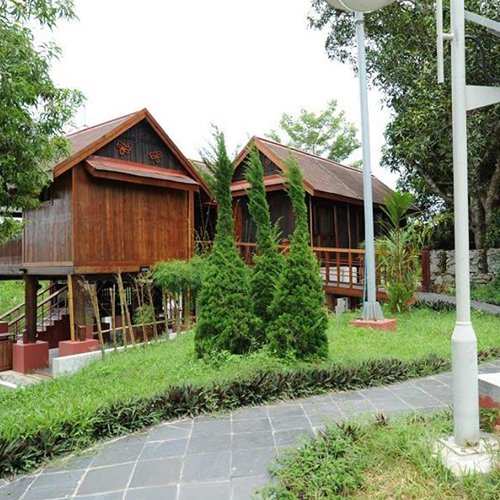 Nga Lake Kan Tha Eco Resort, Nay Pyi Taw
Nga Laik Kan Tha Eco Resort is located on the shores of a beautiful man-made lake in the lush countryside near Myanmar's capital city, Nay Pyi Taw. The resort is only 20 minutes from the city but worlds away in terms of atmosphere, offering guests a convenient way to escape back to nature. The green-oriented facilities are designed for minimal ecological impact, including solar-powered accommodation and curtains made with natural- dyed fabrics.

Accommodation options at Nga Laik Kan Tha Eco Resort include 15 Chalets and 8 Deluxe Rooms, all in a peaceful, serene setting and all providing easy access to the lake and the resort's facilities. All accommodation options feature stylish furnishing and modern amenities that ensure the comfort and enjoyment of guests.

Address : Kywe Shinn Village, Ottara Thiri Township, Naypyitaw.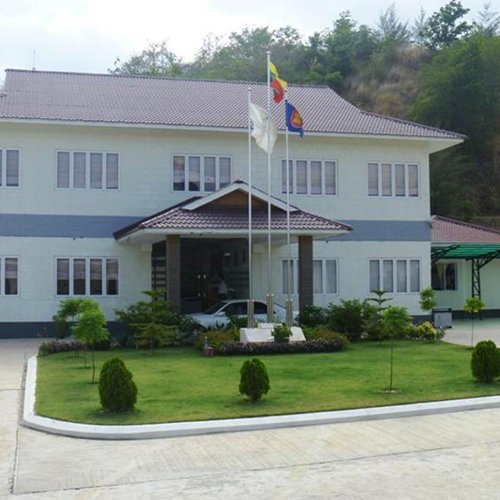 Stop at Myat Thinzar Hotel to discover the wonders of Nay Pyi Taw. Offering a variety of facilities and services, the hotel provides all you need for a good night's sleep. Free Wi-Fi in all rooms, 24-hour room service, Wi-Fi in public areas, car park, room service are there for guest's enjoyment. Each guestroom is elegantly furnished and equipped with handy amenities. The hotel offers various recreational opportunities. Friendly staff, great facilities and close proximity to all that Nay Pyi Taw has to offer are three great reasons you should stay at Myat Thinzar Hotel.

Address : 19, Pobba Thiri Circular Street, Hotel Zone 2, Oattara Thiri Township, Nay Pyi Taw, Myanmar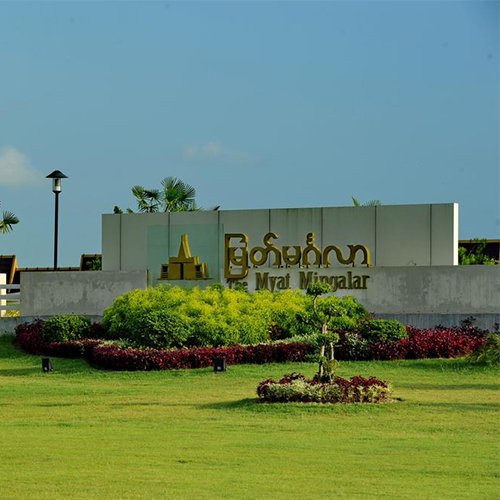 The Myat Mingalar Hotel is a 5-minute drive from a shopping area and Emporium Jade Hall. It offers air- conditioned rooms with free Wi-Fi and free public parking. Staff at the 24-hour front desk can assist guests with laundry and shuttle services.

The hotel is a 25-minute drive to Nay Pyi Taw International Airport.

Guests can enjoy Chinese and Myanmar cuisines at the restaurant.

Address : Hotel Zone 1, Shwe Kyar Pin Street, Dekkinathiri TownShip, 11121 Nay Pyi Taw, Myanmar