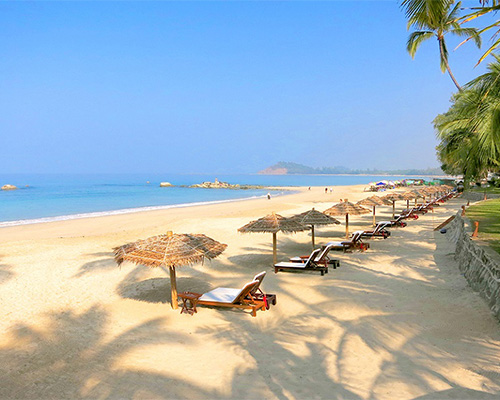 It is famous for its natural and unspotted beauty up to this day. The Ngapali area is a good place to relax and take a break from the stress. The water is transparent and the sea is tranquil. Ngapali is a 3 km long white sandy and unspoilt beach overlooking the clear blue-water of Bay of Bengal, backed by swaying coconut palm and casuarinas trees.
The beach is located in the state of Rakhine or Rakhaing (Arakan in Bengalese) in Western Myanmar facing the Bay of Bengal. Thandwe (Sandoway during British colonial period) is about 25 minutes drive and the airport about 15 minutes.
The water here is transparent and the sea is tranquil. Bicylce tours are arranged to visit the nearby villages. The villagers usually sun-dry their fish, shrimp and coconut. These products are transported to Yangon and and over the country. The best time to visit this beach during October and May of every year.
After sunset the sea in front of the beach is enlightened by the several lamps of the fishermen boats until morning. Before dawn on the shore other fishermen begin setting and drawing drift nets until late morning when they load their catches in baskets.
Fishing boats with motors can be hired for trips to some of the islands off the coast or just to fish near the reef. Some travelers like to go on what is known as" side cars ", trishaws, peddled by local village men with two back to back seats for passengers at the side. The best and cheapest way is to hire a bicycle to go around. Some of hotels provide free bicycle service.
Ngapali is accessible by flight which takes about 50 minutes from Yangon, by car about 14 hours drive along the RakhineYoma mountain range. Ngapali has an international 18-holes golf resort, where you can relax.
If you are looking for a peaceful holiday with time to read and reflect, Ngapali with its lovely beaches is the place to visit. There you will find serenity and peace of mind amidst beautiful scenery.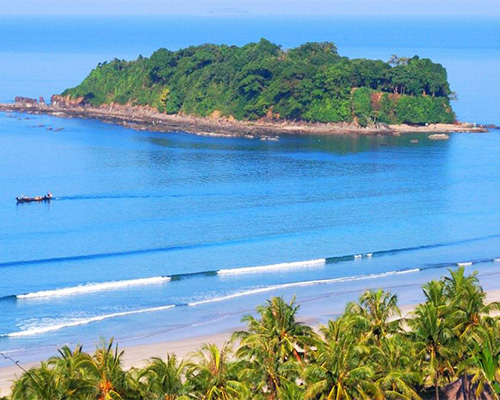 NgweSaung is also on the western coast of Myanmar on the Bay of Bengal, nearly directly west of Yangon and a bit south of Ngapali. It has become popular with tourists in just the last four or five years and the quality of the beach, sand and water is comparable to Ngapali Beach. There are many hotels (most of them are deluxe or superior category) however a few more are being built. Until recently, the beach could be reached only by car (about 5 hours drive) from Yangon, or by a tourist ferry that would make an overnight trip (but sometimes the boat would not run if they did not have enough bookings). Like Ngapali Beach, the beauty of the beach is unspoiled and visitors can enjoy a peaceful and relaxing holiday.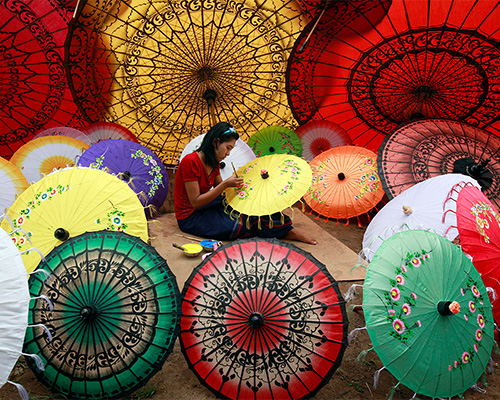 Pathein is a capital city of the delta region and the gateway to NgweSaung beach is the port city easily reached by road or by cruise through the complex Ayeyarwady river. Pathein, situated in the Ayeyarwady Delta about 190 km west of Yangon is well known by it production of unique parasol locally called "PatheinHti" (Bamboo umbrella) which is widely used at hotel & restaurant for traditional decoration. There is an elephant camp between Pathein and NgweSaung beach, which gives you an excellent opportunity to observe these mighty beasts as closed as their nature.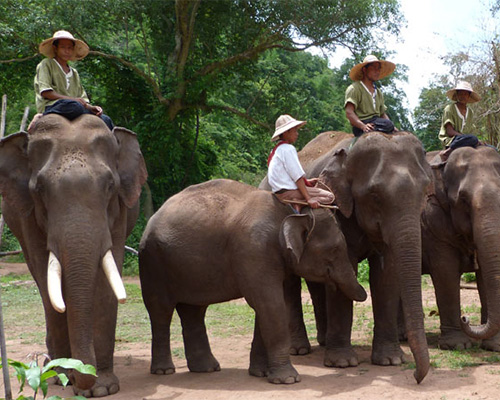 This Elephant Camp near NgweSaung is 32km from the riverbank of Pathein and 45 minutes drive from NgweSaung. It was founded in 2000. For the visitors, the camp has well-trained elephants to conduct elephant riding program in the forest. Walking in the jungle, hiking up and down steep hills and crossing streams on the back of these elephants are an excellent opportunity to observe. The entrance fee into the camp for foreigners is US$5 with an additional fee of $5 if you want to ride the elephants.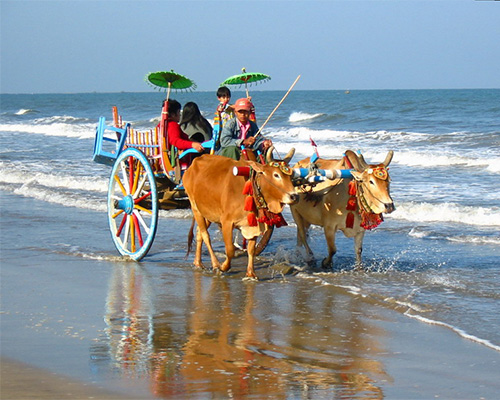 The beach is located 154 miles from the Capital City of Yangon and only 34 miles from Patheinin. ChaungThar is the nearest ocean resort available to foreign tourists, being easily reached from Yangon 5 hrs drive approximately. Offshore lies a modest coral reef with decent snorkeling except during the rainy season when water clarity is poor. There are several choices of accommodation quite medium level and the best one available is 3*+. The local restaurants are quite simple but offer delicious sea foods. It can be reached only by car (5hours). Chaung Tha's main beach may be scrappy, but it is fun, particularly when it is full of locals on a weekend away from Yangon – popular times of year include new year, the Thingyan water festival and towards the end of the Myanmar school summer holidays in May. On the way to Chaung Tha, it has pass through the delta region and can observe the way of life of delta and the rice fields. Due to the monsoon period, it is recommendable from mid-October to April only. There are classic beach activities abundantly in Chaung Tha, including horse riding, bicycle and quad bike hire and inflatable rings. For the more adventurous, there are two islands that can be visited nearby: a larger one directly to the south of the main beach, which can be explored by foot and has a hilltop pagoda at its northern head land, with great views out to sea.