Bagan : Archeological Zone (The Land of Pagodas)
Sir James Scott, in his book, (THE BURMAN 1882) had said of Bagan, that Bagan is in many respects the most remarkable religious City of the world. The whole space is thickly studded with Pagodas of all sizes and shapes, and the very ground is so thickly covered with crumbling remnants of all vanished shrines, that according to popular saying you cannot move foot or hand without touching a sacred thing.
The Ancient Archaeological city, Bagan was founded in 849 AD and became the capital of first unified Kingdom and the first multinational Union of Myanmar in 1044 AD. It covers an area of 42 sq km containing more than 2000 edifices. The majority of these well-preserved pagodas offer a rich architectural heritage from 11th-13th centuries. It is located in the east bank of the famous Ayeyarwady River with the span of 42 square kilometers where there are over 5,000 mysterious and magnificent stupas and hollow pagodas that are making Bagan the wonders of the world. The temples in Bagan are infinitely fascinating, each with its own story and legend. Sunset in Bagan is a most captivating scene and treasured memory to take home. Finest lacquer ware is the famous product of Bagan.
Places of interest in Bagan are, Ananda Temple, the most beautiful and the finest in art. Thabinnyu, the tallest Temple. Dhamayangyi, the biggest building. Shwezigon Pagoda, the first prototype of Myanmar Pagoda. Mahabodhi, resemble to Indian temple. HtiloMinlo, the finest plaster carvings on inside and outside walls. Dhamayazaka, the pentagonal shape. Sarabha Gate, the main entrance into the Palace.
Shwegugyi, in front of the excavated Palace site. AnandaOkkyaung, with fine mural paintings of late Bagan period. KyansitthaUmin (cave), with wall paintings of scenes of Buddhist life. Wetkyi Inn Gubyaukkyi, with wall paintings. PitakaTaik, the library of Buddhist teachings in the past. Nathlyung Kyung, with spiritual Nat inside. Shwesandaw Pagoda with steep stairs to the top. Alopyae temple, with paintings on inside wall. Manuha temple, with huge bowl at the entrance. Myazedi and MyinkabaGubyaukkyi, with big stone scripts in four languages from 2000 years ago and wall paintings, preserved by UNESCO. Thandawgya Pagoda, MingalarZedi with views over Bagan. Gawdawpalin is on the riverbank. Buphaya, with the view of sunset over the river Ayarwaddy. NyaungOo Market, Museum and traditional handicraft shops are to visit.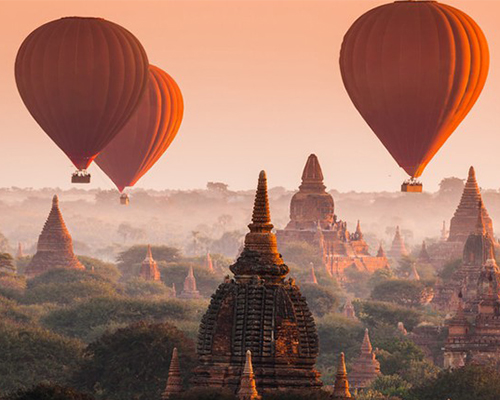 Taking off each morning just before sunrise, we offer a choice of Premium or Classic service flights. All our balloon flights offer the same unrivalled views over the ancient temples of Bagan in complete comfort style and safety. It's established in 1999, Balloons over Bagan has grown from a single small balloon operation with 8 crew, to 11 balloon operations employing over 100 local staffs and 16 foreign pilots and technicians. Today it is operating ballooning flights in Bagan, Inle Lake and Pindaya.
Services:
Sunrise & Sunset flights in Bagan with Premium & Classic (Oct – March). Sunset is only for last minute booking and operates depending on weather condition. Inle Lake & Pindaya Balloon Safaris- Premium service (Nov – March)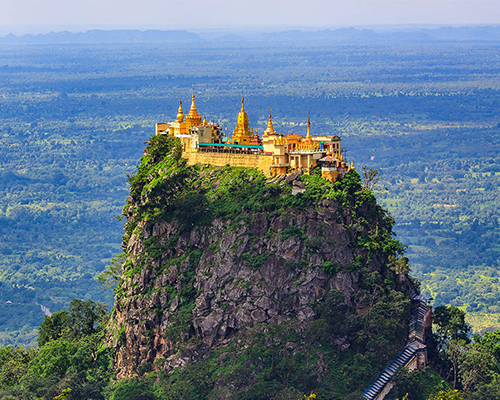 32 miles from Bagan by road is a place for the peoples, who love Spiritual nats. The main mountain is known as the extinct volcano and is about 5000ft above sea level. But Taungklat is a small rocky mountain shoots up like a tree trunk of 2500 ft high. Its like an oasis year round while the Bagan plain is hot like desert. One of the summer Resorts in central Myanmar. Tower like volcanic plug that houses a picturesque complex of monasteries and pagodas, which can be reached by winding 777 steps. Visit the Nat shrine at the foot of the Taungkalat and get to know the Nats – Mythical spiritual beings with sad, interesting legends.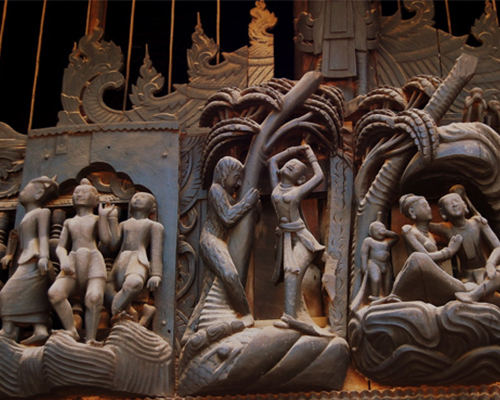 Salay is a colorful old religious center in Central Myanmar it is about 1 ½ hours south of Bagan. In between visiting the numerous ancient monasteries, adorned with beautiful woodcarving, you can enjoy the beauty of this compact city of colonial buildings, monasteries and pagodas. It's one of the most exquisitely beautiful places in all of Myanmar (Burma). You'll find a scattering of monasteries and pagodas to visit that offer a truly peaceful insight into Buddhistculture.
Visiting to the famous Yoke-Sone-Kyaung Monastery which is a Burmese Cultural Heritage site and its buildings are all fabulously decorated with religious wood carvings; your camera won't stop whirring as you wander the grounds. It is famous with its spectacular woodcarvings 100 years old sculpture and also it is the native town of the famous writer Salay U Pone Nya during the time of the Myanmar Kings.
The Man Paya Pagoda on the other hand offers you the chance to see the largest lacquer construction of the Buddha, which is build estimated in 13th century in Burma.