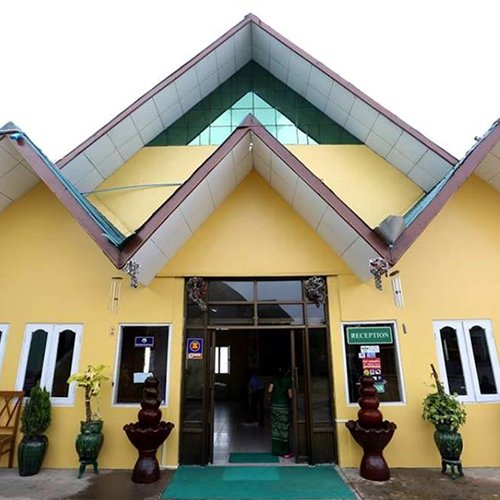 Featuring free WiFi in all areas, Kyaik Hto Hotel – The Golden Rock Pagoda offers accommodation sharing the location with the famous Kyaik Htee Yoe Pagoda in Myanmar.

Every room is equipped with a satellite TV, a seating area and an electric kettle with coffee/tea making facilities. Air conditioning is also available in selected rooms. Fitted with shower facilities, the private bathroom includes free toiletries, a hairdryer and bathrobes.

Situated on the hilltop and surrounded by nature, guests can enjoy hiking with a local expert at the property. Other facilities such as meeting rooms, laundry and currency exchange can all be arranged at the 24-hour front desk.

Address : Kyaik Htee Yoe Pagoda, Kyai-khto Township Mon State, Myanmar, 10111 Kyaikto, Myanmar
This Bawga Theiddhi Hotel makes an ideal base from which to explore Kyite Htee Yoe (the Golden Rock), one of Myanmar's most visited pilgrimage sites, is situated in Kyite Hto, Mon State. The hotel is located at Kin Mon Camp, the base camp of the Golden Rock. Convenient transportation links are within easy reach of the hotel, which makes travelling to and from Kyite Htee Yoe easy for guests. There is a bus station right across from the hotel, while the transport terminal to Golden Rock is just a short 5 minutes walk away.

Address : Bawga Theiddhi Hotel (Kyite Htee Yoe) Kin Mon Camp, Kyike Hto Township, Mon State, Myanmar.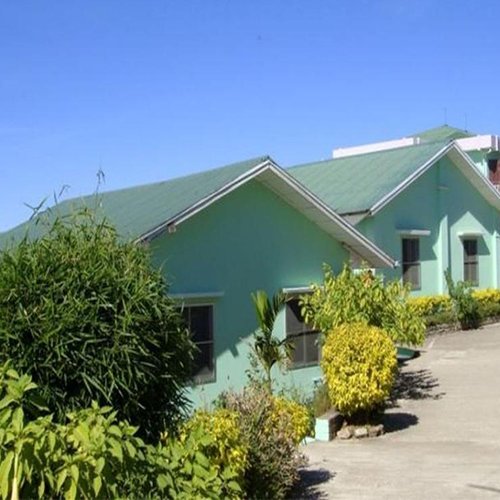 The Golden Rock Hotel is a vantage point commanding unique breath taking views of the surrounding mountain ranges and spectacular sunsets – sights that will leave a lasting impression.

Uniquely situated in an idyllic setting amid lush tropical vegetation and age-old rocks, the Golden Rock Hotel is ideal for relaxation and meditation on your trip to Kyaiktiyo.

Just a 45-minute hike to the Kyaiktiyo Pagoda (Golden Rock Pagoda), the Golden Rock Hotel is one of the only properties offering international class accommodation and facilities to travelers.

Accommodation is in individual chalets strategically placed on more than three acres of wooded terrain on Mt. Kyaiktiyo. The distinctive shape of each building resembles the shape of a hermit's hat, taking full advantage of different elevations and architecturally designed to assure privacy for each room. This hotel is a perfect hideout, far-away from the busy city, yet it is located only 2 miles away from the world famous "Golden Rock Pagoda" which is distinguished as one of the most awe-inspiring places in the world.

Address : Near Kyaiktiyo Pagoda, Kyaikto Township, Mon State, Myanmar (Burma)
Mountain Top Hotel is at a vantage point commanding a panoramic view of the lush mountain ranges below, where one can experience spectacular sunrise and sunset – sights you will long remember.

Only a 5-minute walk to the Golden Rock Pagoda at the top of Mount Kyaiktiyo, the Mountain Top Hotel is ideally located for those who wish to make frequent visits to this wonder of South East Asia.

Regarded as the best hotel near the Golden Rock, Mountain Top Hotel is one of the only hotels of international standard on the mountain. Operated under foreign management we are renowned for achieving "service excellence" by providing high quality service, accommodation and facilities to almost 3000 guests every month during the peak season. Mountain Top Hotel is a sister hotel of the award winning Golden Rock Hotel in Kyaiktiyo.

Address : Near Kyaiktiyo Pagoda, Adjacent to the Foreigners' Registration Office, Kyaikto Township, Mon State, Myanmar.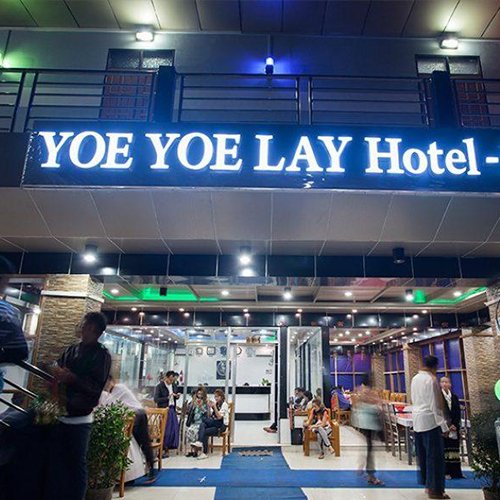 Yoe Yoe Lay Hotel III is located at Mount Kyaikhteeyoe, Golden Rock Pagoda. It is 20-minute walk away from Kyee Kan Paset. It will take 30 to 45-minute to reach Waterfall and Kyaik Than Lyan Pagoda. Guests enjoy free Wi-Fi internet.

Three types of room are available. All rooms are fitted with air-conditioning, television, minibar, tea/coffee facility and shower. 24-hour electricity is supplied.

Breakfast will be served at no extra charge. There is also an on-site restaurant. Safety deposit boxes, laundry / dry cleaning housekeeping, daily newspaper, 24h room service, ironing and storage room services are provided with extra charges. The premises are guarded by security personnel.

Yoe Yoe Lay Hotel III is located 30-minute drive from Highway Bus Station and 45-minute drive from Railway Station.

Address : Nearly Si Mee Koe Htaung Da Mar Yone, Kyaik Hti Yoe Pagoda, Kyaik Hto Tsp, Mon State, Myanmar.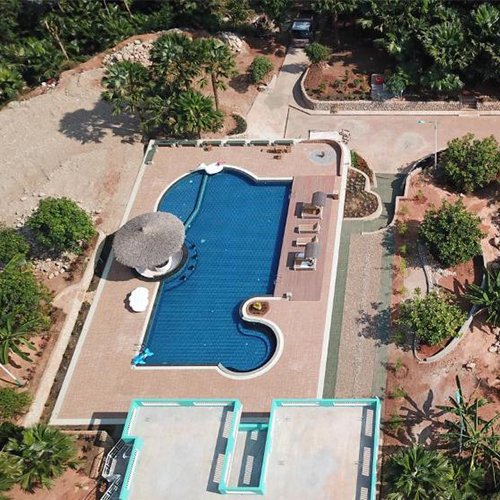 The Eternity Resort Hotel
Eternity Resort Hotel is located at Kyaikhto Township in Mon State. Our features free Wi-Fi access and room to room telephone in guest rooms. We started out as a nice hoel in October,2013 and 100 Rooms for accommodations in the future plan. We celebrated Soft Opening in 1st October 2014. Currently, Thirty One Deluxe Rooms are available for guests. A Hot Shower and Aircorn are included in every room at The Eternity Resort Hotel. For added convenience, Coffee and Mini Bar facilities are also provided.

Address : 176(A), Zayat Quin, Kin Mum Sakhan, Kyaikhto, Mon State, Myanmar.