Myanmar (Burma), officially the Republic of the Union of Myanmar, is bordered by India, Bangladesh, China, Laos and Thailand. It has an uninterrupted beautiful coastline, which has a total perimeter of 1,930km, along the Bay of Bengal and the Andaman Sea.
It is the second largest country in Southeast Asia with a land area of 676,577 Sq.Km and it has a population of over 58.8 million. Situated between latitudes 9.30′ N and 28.30′ N and between longitudes 92.10′ E and 101.10′ E, the country stretches 2090km north to south and 925km east to west. 
Myanmar is a great place to visit at any time of the year. It's a timeless destination. The seasons come and go, but Myanmar's different attractions endure throughout the year. Myanmar is a large country and temperatures can vary from region to region.  
The most pleasant time to visit Myanmar is the Cool Season, from November to February, the temperatures are mild and weather is dry.  
During the raining season, landscapes are green and lush. Local markets are filled with many kinds of seasonal fruits and vegetables.
The hot season is March through May.  The Burmese people's most celebrated Thingyan Festival (Water Festival), which is preludes the arrival of Burmese Calendar New Year, is in mid April.
Myanmar offers diverse ranges of rewarding & amazing experiences with friendly and kind people, an interesting history, mesmerizing Buddhist temples, and plentiful trekking sites.
The most visited places are Yangon, Bagan – ancient archeological city, Mandalay – cultural center, Inlay Lake – scenic large lake surrounded by mountains and nature and Golden Rock Pagoda – a pilgrimage site of a huge boulder covered by gold leaf and delicately balanced on the edge of a cliff.
Visit bustling markets, ancient temples, and well-preserved pagodas. Take a glimpse into the everyday life of Buddhist monks, ethnic people, and native lake-dwellers. Lush tropics, beautiful rivers and lakes form the backdrop for this unique and exotic destination.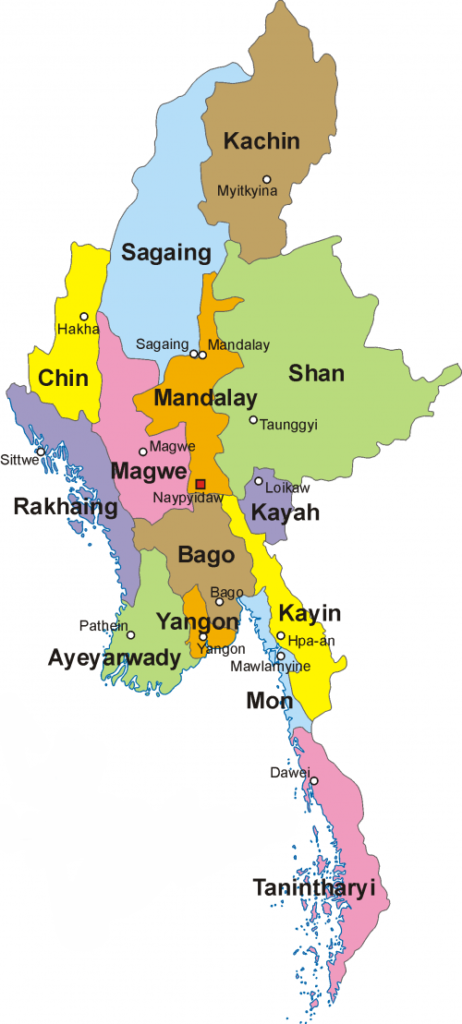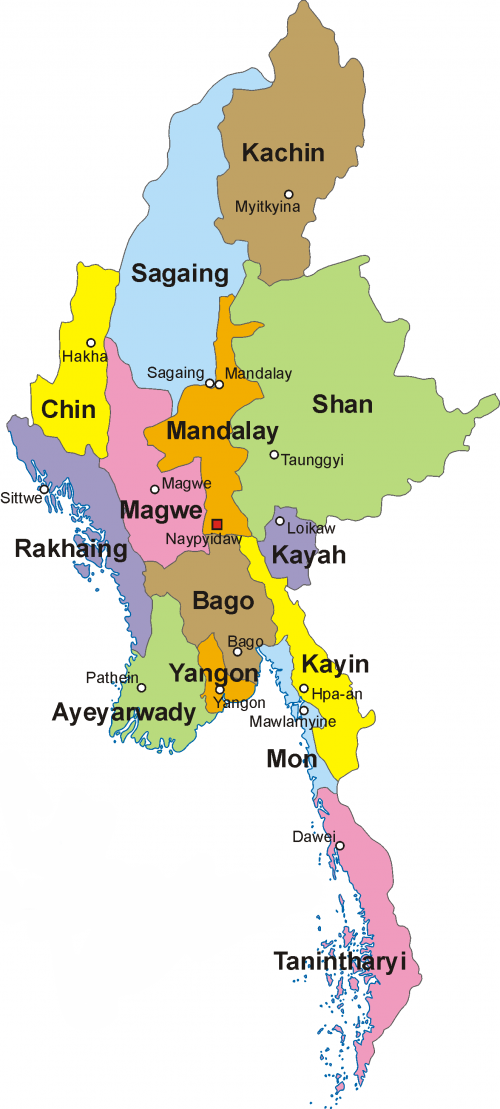 There are two international airports accessible to Myanmar by air. Yangon International Airport is the main international airport and another one in Mandalay international airport. Yangon International Airport has direct air-link with
Bangkok
Singapore
Kuala Lumpur
Guangzhou
Taipei
Kunming
Hanoi
Kolkata/Gaya
Chaing Mai
Seoul
Tokyo
Hong Kong
Siam Reap
Ho Chi Minh
Dubai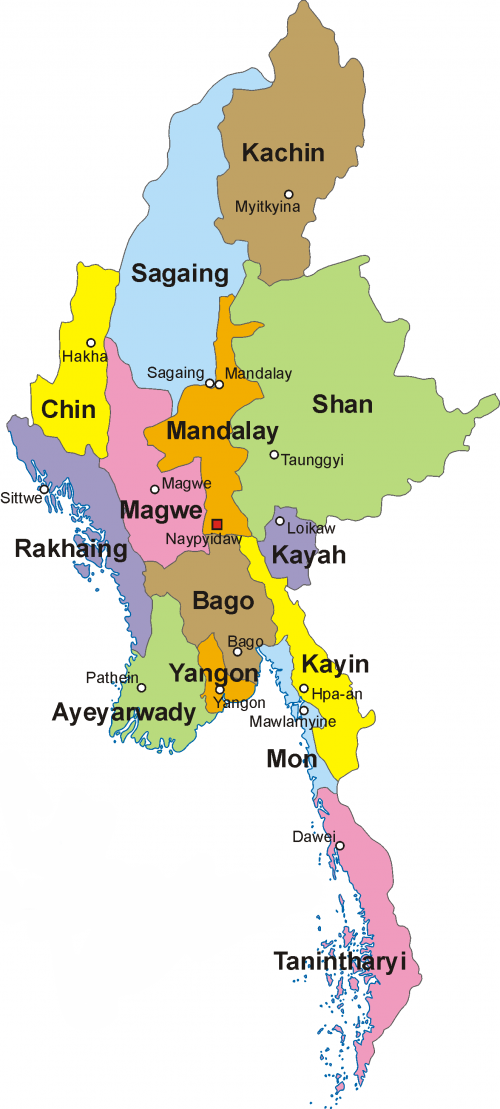 Cruise ship calls at Yangon port with visa on arrival being granted on prior arrangement.
Overland entry with a border pass is permitted at the following border check points
Tachileik
Three Pagoda Pass
Myawaddy
Kawthaung on the Myanmar-Thailand border
Lweje
Nam Khan
Muse
Kyukoke
Kwanlong
MongLar on the Myanmar-Yunna (China) border.
The city of Yangon is the business hub and largest city in Myanmar with a population of 5 million.  It was founded by King Alaungpaya in 1755 over 350 sq km in area. There are a variety of accommodations ranging from 4 star deluxe hotels to economy class hotels and motels. A wide range of transportation services as Limousine service, free airport transfer shuttles by major hotels and taxies easily available throughout in Yangon and its suburbs. The most famous and secret Shwedagon Pagoda was built over 2500 years ago and enshrined with the relics of Buddha. The KabaAye Pagoda was built in 1954 and the sixth Buddhist Synod was held in the great stone cave. National Museum houses the last Myanmar King's lion throne, royal regalia, manuscripts, and etc.
Myanmar Weather Information
Experience ancient cultures and amazing natural beauty in mystical Myanmar (Burma) in Southeast Asia. Bustling local markets, well-preserved ancient temples and pagodas and smiling face of Myanmar people are unique attraction of Myanmar (Burma). Explore into the everyday life of Buddhist monks, hill tribes people, and native lake-dwellers in Shan State. Lush and greenery tropical, beautiful Rivers and many more lakes are for Myanmar's untouched, unique and exotic destination.
Myanmar (Burma) has 3-seasons such as winter (dry season), summer, and raining seasons. The ideal time to visit Burma is during the dry season, between Octobers to April. In this dry season, accessible to all Myanmar destinations, all are greenery and lush the beaches are beautiful and all hotels in beach are open; rewarding period. During raining season, between June to September, the beaches are mostly closed during raining season because of Monsoon. In this raining season, although Mandalay and Bagan need more rain and yet scenery are very greenery and beautiful if you don't mind about raining. Start from September, you shouldn't be deterred from visiting during this time as Burma has lots to offer all year round. October to April is the best time to visit Myanmar (dry season) but we still provide and accessible all year round to main tourist destination such as Yangon, Bagan, Mandalay, Inle Lake and some hotels are open in the beach even in raining season.
Destination
Jan
Feb
Mar
Apr
May
Jun
Jul
Aug
Sep
Oct
Nov
Dec
Cool
Summer
Raining
Cool
Yangon
90°F
93°F
97°F
99°F
93°F
86°F
86°F
84°F
86°F
88°F
90°F
88°F
Bagan
84°F
90°F
97°F
100°F
97°F
91°F
90°F
90°F
90°F
90°F
86°F
82°F
Mandalay
82°F
88°F
97°F
100°F
99°F
93°F
93°F
91°F
91°F
90°F
84°F
81°F
Inle Lake
75°F
79°F
86°F
90°F
86°F
81°F
81°F
79°F
81°F
81°F
77°F
75°F
Ngapali Beach
86°F
90°F
91°F
93°F
93°F
86°F
84°F
84°F
88°F
90°F
90°F
88°F