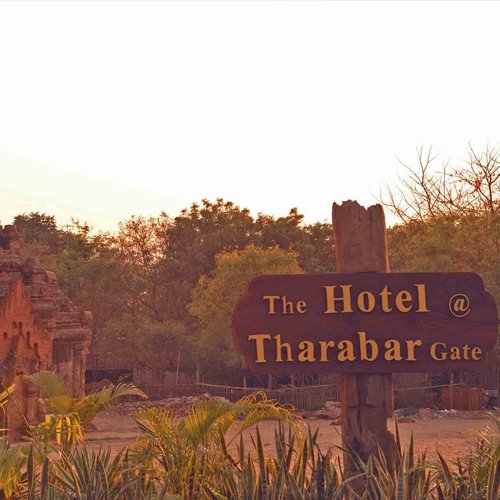 The Hotel @ Tharabar Gate
The Hotel @ Tharabar Gate is located in the most unique Archeological Site of South East Asia, Old Bagan; the Ancient capital of the Burmese Empire. Surrounded by more than 4000 ancient temples and pagodas,  you will be enchanted by its breathtaking views. The Hotel @ Tharabar Gate is within 5 minutes walking distance to the spectacular Ananda Temple known as 'The Jewel of Bagan'.
Address : Near Tharabar Gate (Old Bagan ), Nyaung Oo Township, Mandalay Division, Myanmar.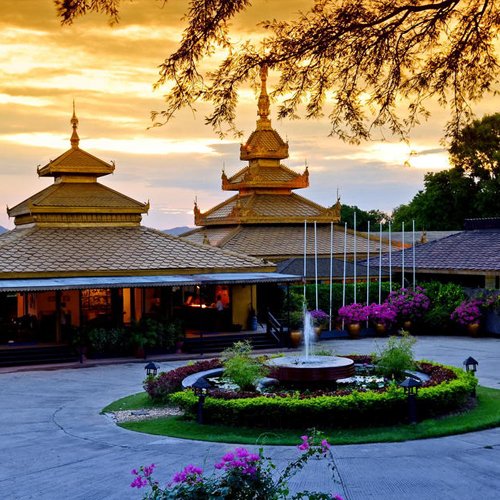 Thiripyitsaya Sanctuary Resort
Bagan Thiripyistaya Sanctuary Resort is situated on the banks of the Irrawaddy, Myanmar's river of history and legend. The Resort sprawls over 24 acres of landscaped gardens, which is home to mature tropical trees and flowering plants, as well as native birds and a number of small tame animals. Every morning our gorgeous peacocks, Myanmar's national bird, go for a  walk in our garden. Oriented towards the west, the Resort revels in panoramic river views, glorious sunsets and silver  moonglow, and a pervading atmosphere of profound peace, warmth and comfort.
Address : Bagan Archeological Zone, Old Bagan, Mandalay Division, Myanmar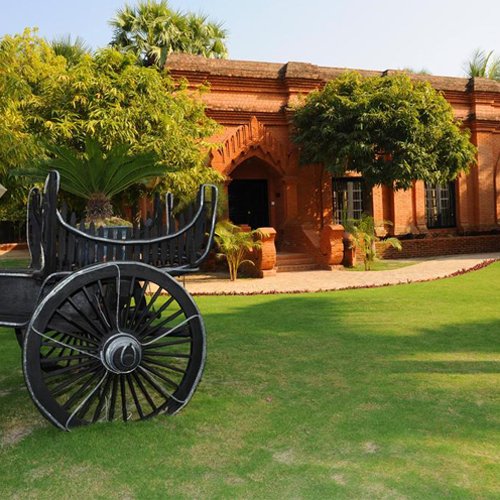 The Amazing Bagan Resort promises each guest with unsurpassed ambience and personalized service altered to the individual's needs. So come and enjoy the experience of one of the most luxurious resort here at Bagan and catch a glimpse of the "Land with a Million Pagodas". Amazing Bagan Resort is a 10-minute drive from Nyaung U Airport.
Address : Bagan Nyaung Oo Golf Club compound, Nyaung U, 11861 Bagan, Myanmar.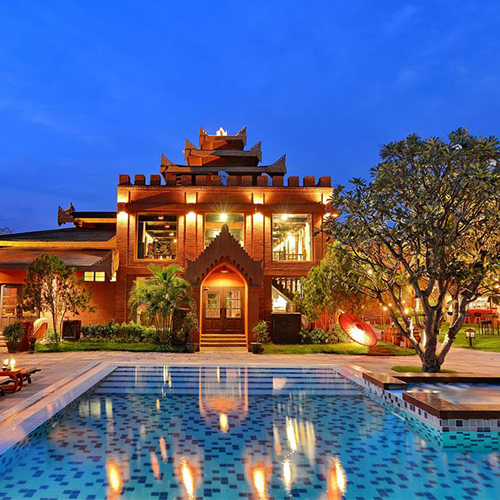 Situated in the Bagan Archaeological Preservation zone, Myanmar Treasure Resorts Bagan offers luxurious guestrooms surrounded by swaying palm trees and landscaped gardens. Incorporating traditional and contemporary designs, the resort boasts a large outdoor pool, a restaurant and on-site spa and massage services.
Address : Khayay Road, Anawrahta Quarter, Bagan, New Bagan, 11111 Bagan, Myanmar .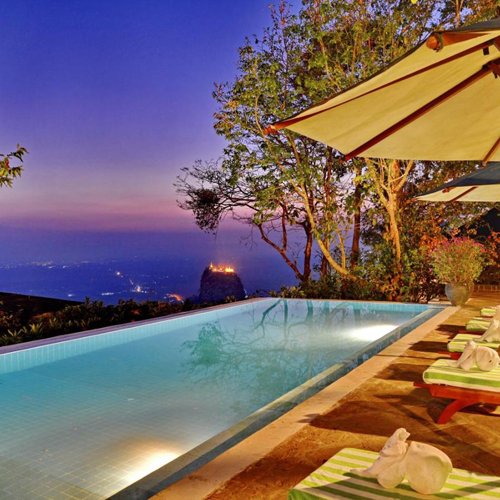 Set on a mountain surrounded by lush greenery, Popa Mountain Resort offers beautiful accommodation with free WiFi throughout the property. Free private parking is also available on site. Guests can enjoy delectable meals served at the restaurant while enjoying unobstructed views of natural landscape. The peaceful outdoor pool offers all guests a perfect  escape from their usual daily life.

All rooms at this property are air-conditioned and feature a flat-screen TV and a private balcony with a seating area. Guests can pamper themselves with a choice of package at the spa or sunbathe at the poolside. The en suite bathroom comes with a shower and premium amenities.
Address : Mt.Popa, Kyauk Padaung Township, Mandalay Division, 11111 Popaywa, Myanmar .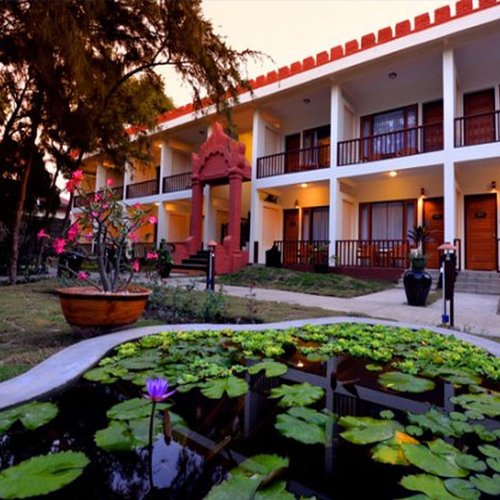 Bagan Thande Hotel is located at the south-west corner of the ancient walls Of Old Bagan City and on the eastern bank of the River Ayeyarwaddy and also situated inside Bagan Archaeological Zone.

Bagan Archaeological Museum is in the east side of the hotel and the west side is the superb Ayeyarwaddy River.It's 6.4km far from Nyaung Oo.4km from New Bagan,10km form airport, 16km form railway station and 1.5km form jetty.Several well known Buddhist Monuments are within walking distances from our hotel.
Address : Archeological Zone, Old Bagan, Old Bagan, 11221 Bagan, Myanmar .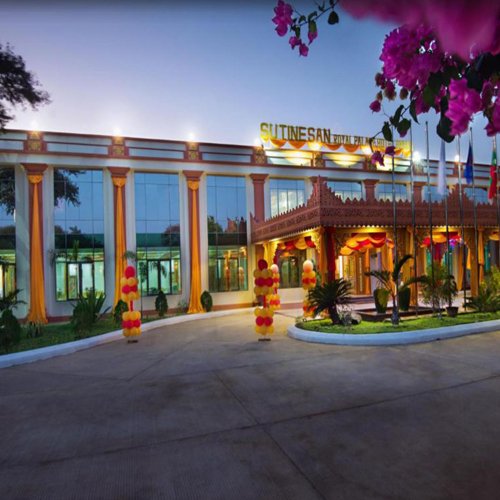 Su Tine San Royal Palace Hotel
The hotel is 3 km from Dhammayan Gyi Temple, 3.8 km from Bagan Archaeological Museum and 3.8 km from That Byin Nyu Temple.  Nyaung U Airport can be reached under 8 km.

Open for all-day dining, the in-house restaurant serves local and international dishes. Guests can find enjoyable music and special drinks at the bar. Alternatively, head to nearby eateries, which is available within a 10-minute drive.
Address: Pon Nyat Road, New Bagan, Bagan, Myanmar.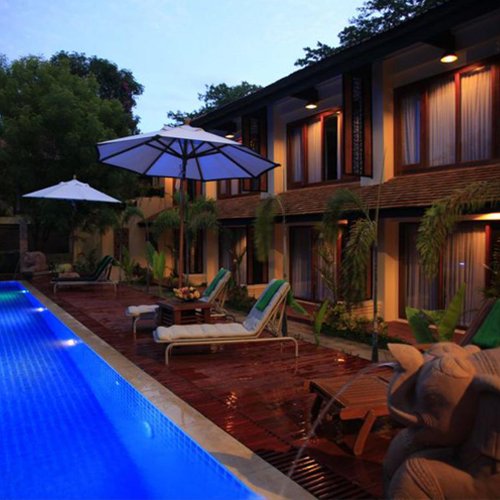 Situated in New Bagan, this hotel is within 3 mi (5 km) of Gawdawpalin Temple, Bagan Archaeological Museum, and Thatbyinnyu Temple. Dhammayangyi Temple is 3 mi (4.9 km) away.

This hotel features 2 restaurants, an outdoor pool, and a bar/lounge. Free continental breakfast, free WiFi in public areas, and free self parking are also provided. Additionally, massage/treatment rooms, a meeting room, and a 24-hour front desk are onsite.

All 50 rooms feature thoughtful touches like bathrobes and slippers, along with conveniences such as sitting areas and refrigerators. Free WiFi and minibars are standard, as are LCD TVs with satellite channels.
Address : No 25, Bagan – Chauk Main Road, Thiripyitsaya Quarter, New Bagan, Myanmar.
It is located in New Bagan, in close proximity to Myanmar's ancient city of Bagan, a famous historical site that's steeped in intrigue and mystery. It is situated only a few minutes from the panoramic Bagan plains, the site of the 1,000-year-old Bagan Empire where 2,000 temples and various architectural treasures can still be found.
Address : No. 10, Myat Lay Street, Anaw Ra Htar Block, Na Ra Theinga Quarter, New Bagan, Nyaung Oo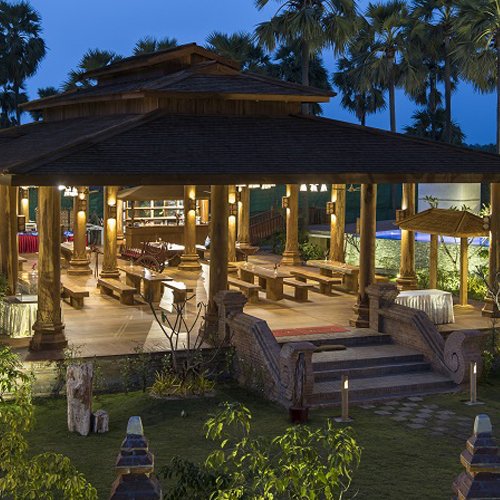 Our Famous Hotel, Bagan is situated in this wonderful & picturesque place surrounding, tourist destinations, rich in ancient archicture. The hotel complex is so beautifully decorated landscaped garden and lotus fountain. Easily accessible to the main tourst destination places from our hotel. And also a few minutes drives from Bagan Airport & High Way Bus Terminal (Bagan Shwe Pyi) and ten minutes drive to Nyaung Oo Market (Manisithu). Please come & enjoy the experience and elegance  of our luxurious hotel in Famous Bagan "The Land with thousands of Impressive Temples & Pagodas".
Address : Between Bagan Shwe Pyi Highway Bus Station & Junction Airport, Beside of Nyaung U (Bagan) – Kyauk Pa Taung Road, Myanmar.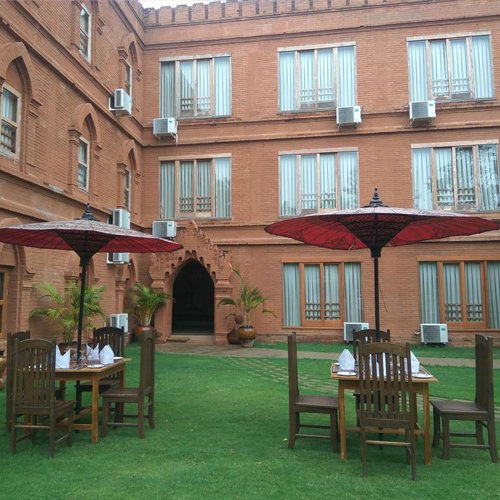 Situated just a 5-minute drive from Nyaung U Airport, Bagan Airport Hotel offers air-conditioned room and free WiFi access. A free airport shuttle service is offered.

Room here provide a flat-screen satellite TV, a seating area and an in- room safe. There is also an electric kettle and a minibar. The en suite bathroom includes a bath, shower and a hairdryer.

At Bagan Airport Hotel you will a 24-hour front desk, laundry services and scooter rentals. The on-site restaurant can prepare meals and the property has free parking.

Also a 5-minute drive away is Nyaung U Train Station and Nyaung U Bus Terminal. The local market is a 10-minute drive away, while Shwesigon Pagoda is a 15-minute drive away.
Address : No.60/61/62, Airport Road, 6 Quarter, Aung Myay Thar Yap, Nyaung Oo., Nyaung U, 11121 Bagan, Myanmar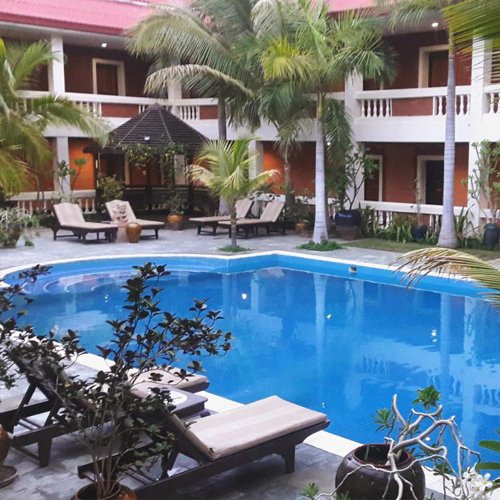 Offering an outdoor pool and a restaurant, Arthawka Hotel is located in Bagan. This hotel is about 3.2 km from Dhammayan Gyi Temple and 4 km from That Byin Nyu Temple. During the stay, guests can take advantage of bicycle rentals, a 24-hour front desk service and free WiFi.

Arthawka Hotel aims to provide ample convenience by providing ticketings, currency exchange and laundry services. Airport shuttles can be arranged at an additional cost. Free parking space is also available.

Within a 15-minute walk, you can admire LawKa Nanda Pagoda and DhaMmaYaZaKa Pagoda or explore Myanmar's precious items at Bagan Archaeological Museum, which is 4.1 km from the accommodation. Nyaung U Airport can be reached under 8 km.
Address : No.160, Cherry Road, New Bagan, Myanmar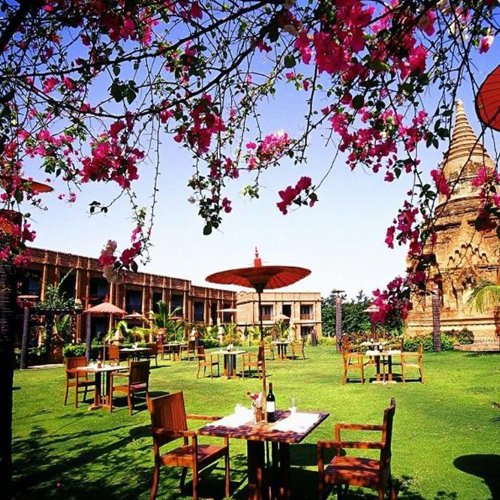 Thazin Garden Hotel,Bagan is a Grand stadium located on the high plain surrounded with ancient pagodas and ruins. Due to the elevated position the viewers can enjoy the natural scenes of hilly ridges and greeny plains, especially the golden Pagodas.The ideal gift for the visitors is for peace of soul and body.Thazin garden Hotel consists of 50 Garden View Deluxe rooms and 17 Pagoda View Deluxe rooms.
Address : No.22, Thazin Road, Archaeological Province, Bagan, Myanmar.
Bagan Umbra Hotel (aka Golden Express Hotel) is located within 2 kilometres from the ancient capital of Myanamar: Old Bagan, one of the richest archeological sites in Asia from 10th to 13th century and Nyaung U Airport. From the hotel you can enjoy the landscape of the ancient town, almost attractions are just within 10 minutes drive so it's very convenient and you can save time to explore the city. Nyaung U Airport is just 15 minutes drive from the hotel. Bagan Umbra Hotel is situated in  5 acres of beautifully landscaped gardens.

Compare to others hotel in Bagan, the 57 rooms at Bagan Umbra Hotel are spacious & quite. All rooms have air conditioning, TV, kettle, free wifi access, seating area, hair dryer and private bathroom. Each room has a private balcony. Daily room service is available.

Our hotel properties also include an outdoor pool, a garden for our guests to have a great & relax moment. Car parking, Spa & Massage service are also available at Umbra Hotel.
Address: Wet-Kyi-In, Nyaung U township | near Shwe Zee Gone Pagoda, Bagan, Myanmar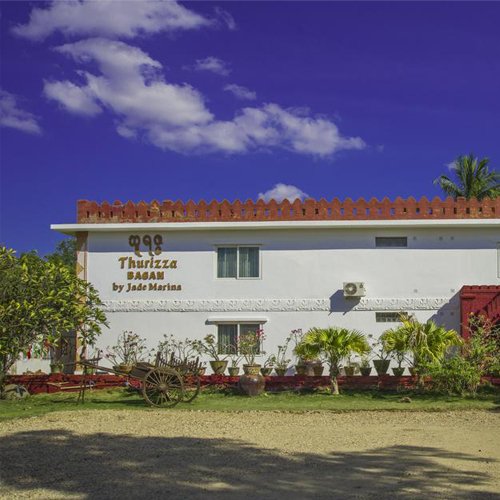 Set in Bagan, 1.9 km from Manuha Temple, Thurizza Hotel Bagan (Thiri Marlar) boasts a restaurant and free WiFi throughout the property. Guests can enjoy the on-site restaurant. Free private parking is available on site.

Some rooms feature a seating area for your convenience. You will find a kettle in the room. Rooms are equipped with a private bathroom. A flat- screen TV is available.

Bike hire is available at this hotel and the area is popular for cycling. The hotel also offers car hire. Gubyaukgyi Temple is 2.5 km from Thurizza Hotel Bagan (Thiri Marlar), while Dhammayazika Pagoda is 2.5 km from the property. The nearest airport is Nyaung U Airport, 8 km from the property.
Address : Bagan Myo Thit, New Bagan, 11101 Bagan, Myanmar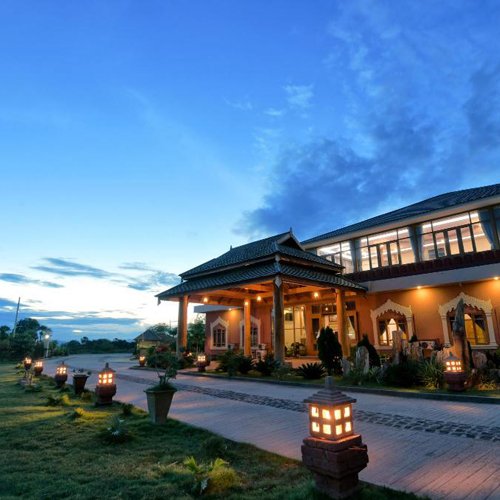 Featuring free WiFi throughout the property, Bagan Emerald Hotel (Mya Yadanar) offers accommodation in Bagan. The hotel has an outdoor pool and guests can enjoy meals at The Emerald Restaurant. Free private parking is available on site.

There is a 24-hour front desk at the property and a electric bicycle rental service. For business travelers, meeting rooms and conference facilities are also available.

Nyaung U Market is 6.8 km from Bagan Emerald Hotel (Mya Yadanar), while Shwezigon Pagoda is 7 km from the property. Nyaung U Airport is about a 10-minute drive away.
Address : Near Bagan Shwe Pyi Express Bus Terminal, Myo Shaung Road, Nyaung Oo, 11111 Bagan, Myanmar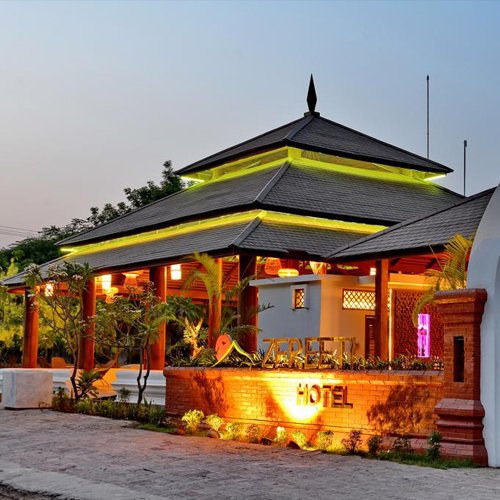 The location of the hotel is situated in a very prime area of Nyaung U. Bagan's main food corridors for tourists are in a walking distance from Zfreeti Hotel where visitors can find marvelous Myanmar curries, indelible Indian paneer, incredible Italian and Savory Chinese etc. There is a Nyaung U bus terminal less than a kilometer walk from our hotel and it took approximately 8 10 minutes drive to the airport. From the doorstep of Zfreeti Hotel, visitors can easily rent local horse cart, bikes, E-bike to  explore a thousands of pagodas and stupas of the ancient era.

As new hotel facilities, outdoor bar attached with swimming pool, relaxing green garden area, spacious reception area and rooftop dinning area are provided. In every room, 32 inches flat LCD TV with satellite channels, coffee & tea making facilities, complimentary drinking water, hair dryer, mini-bar, safety box (except standard room), free Wi-Fi, in room telephone and 24 hours room service for food are available.
Address : 5th Thiripyitsayar Street, Nyaung U, Mandalay Region, Myanmar.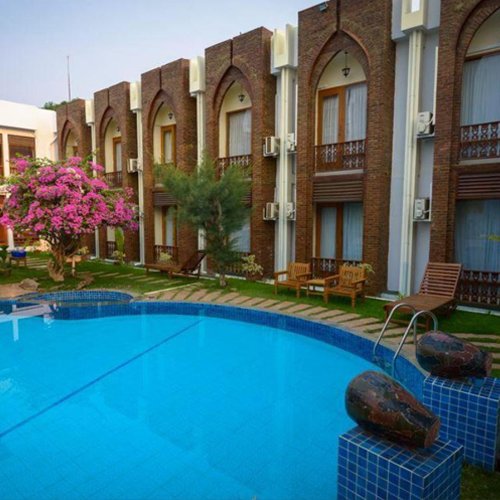 Our Razagyo hotel is located at the east of new Bagan and drive 10 minutes only to airport and 15 minutes' drive to old Bagan area. The nearest famour pagoda of our razagyo hotel is Da Mha Razaka and Law Kanadar Stupa. And also you can walk 10 minutes to down town area such that some restaurant mini store, hire bike station and wet market in the morning time.
Address : No.126, Razagyo Hotel, Myatlay St., Thamudaric Qtr., New Bagan, Bagan Nyaung Oo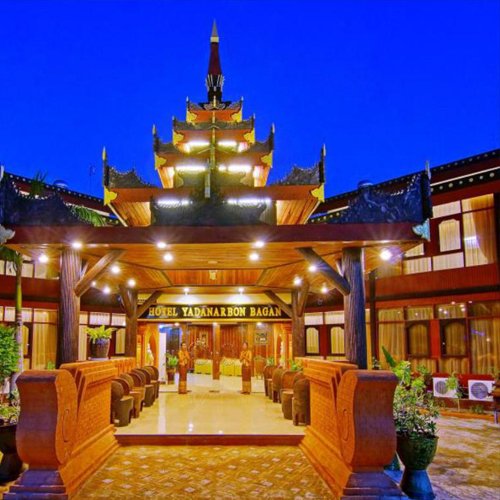 Hotel Yadanarbon Bagan is well-positioned in New Bagan, Hotel Yadanarbon Bagan is the ideal point of departure for your excursions in Bagan. Situated only 1.5 miles from the city center, guests are well located to enjoy the town's attractions and activities. With its convenient location, the hotel offers easy access to the city's must-see destinations. Hotel Yadanarbon Bagan is located in a historic location within the archelogical zone and 10 minutes drive from the Nyaung Oo airport. It is within reach of railway station, bus station, lacquer ware workshop and the Ayewaddy river. It is one of the best places to have a panoramic view of Bagan Pagodas, Temples, sunrise and sunset.
Address : Myat Lay Road, Bagan Myothit Mandalay Division, Myanmar.