Domestic Airline in Myanmar
Amazing Planet Travel Service will arrange air / flight transportation with a reliable private airline for your vacation.
Currently, Air KBZ, MNA (Myanmar National Airline), Golden Myanmar Airline, Air Mandalay, Asian Wings, Air Bagan and FMI Air are private air carrier in Myanmar using ATR 72 / ATR 42 aircraft which are made in France and also some airline has been operating by Air Bus, Jet, F-100.
Baggage allowance on domestic flights is limited to 20kg. Excess luggage will be on clients account or can be left in Yangon hotels for collection on return from upcountry (only if they have second call in Yangon)
AIR KBZ : Air KBZ (K7) www.airkbz.com

Aircraft Fleet
Our fleet is currently comprised of four ATR 72-500 and two ATR 72-600 aircrafts. Plans are already underway for deploying more aircrafts in order to facilitate the expansion. The aircrafts are maintained with the AIR KBZ maintenance facility in Yangon. To ensure safe and comfortable flights, the standardized maintenance procedures are under the careful management and systematic supervision of the Engineering and Flight Operations Departments.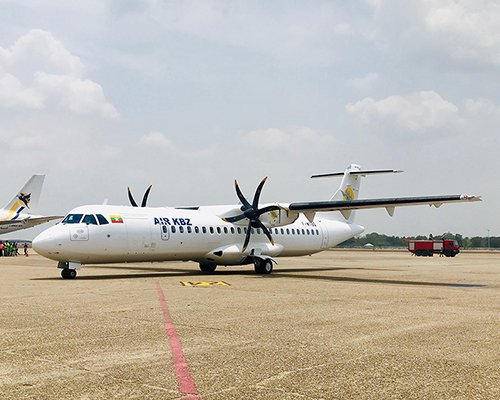 Golden Myanmar Airlines (Y5) www.gmairlines.com
Golden Myanmar Airlines is the first Myanmar Aviation Public Company established in July 2012, GMA has grown to be Myanmar's leading domestic and international low cost carrier. It is with great honor to announce the formation of Golden Myanmar Airlines — as people oriented carrier. In our first steps, we are determined to reach the pinnacle of the airline industry in Myanmar. We are dedicated to deliver outstanding in-flight service, superior onboard products, and operational excellence.
Aircraft Fleet
Number in Fleet – 2
Seats (passenger capacity) – 180 EY
Maximum Take-off Weight – 77,000 KG
Wing Span – 111.8 ft
Length – 123.3 ft
Height – 38.6 ft
Cruising Speed – 904 km/h or 488 kts or 562 mph
Maximum Cruise Altitude – 39,800 ft
Maximum Fuel Capacity – 18,700 Kg
Range With Full Payload – 5,700 km or 3,542 miles
Maximum Thrust – 24,800 lbf
Maximum Cargo Capacity – 1118 cubic ft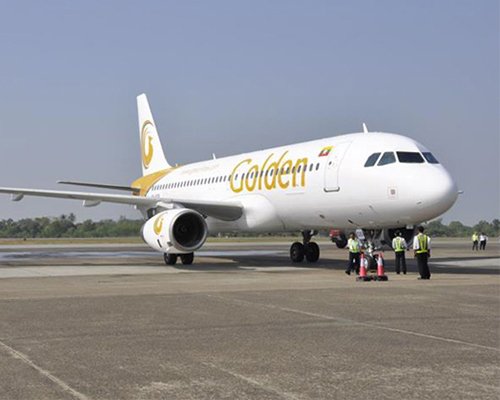 MYANMAR NATIONAL AIRLINES
Myanmar National Airlines is the national flag carrier of Myanmar and has the most extensive route networkwithin our country. Our airline has been in existence for over 65 years and we are one of the oldest and most experienced airlines in Asia.
As we launched our new domestic service in 2014 with fixed schedules, state of the art Reservations and Airport Systems, a brand new Premium Economy on our Embraer 190 aircraft and upgraded food and inflight service throughout our fleet.
We start flying International again after a break of many years providing regional jet services to neighbouring countries. This will allow Myanmar people to stretch their wings alongside us and for us to welcome many more visitors to our country.
We welcomed our brand new Boeing 737-800 aircraft into our fleet. This has allowed us to expand our international network and offer an even better experience for our customers.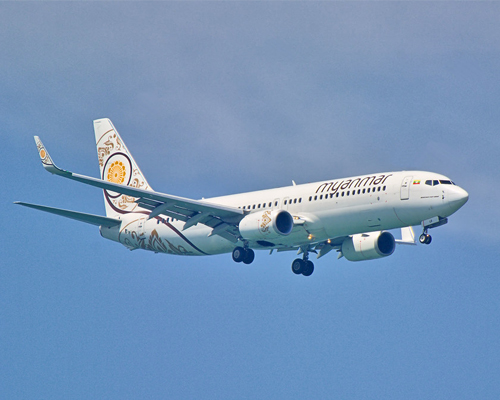 'AIR THANLWIN Holding Company Ltd. was established in February 2014, and bought the shares of Yangon Airways Company, which has been flying over 23 years without any accident and incident. It then reformed its board of directors with replacement of competent ones.
On the 1st October 2019 Yangon Airways is renamed after its mother holding company's name – AIR THANLWIN. Under new brand name, AIR THANLWIN resumes its operations of scheduled and charter services to all commercial and tourist destinations from Yangon hub regularly and punctually to the satisfaction of tourist s and local passengers.'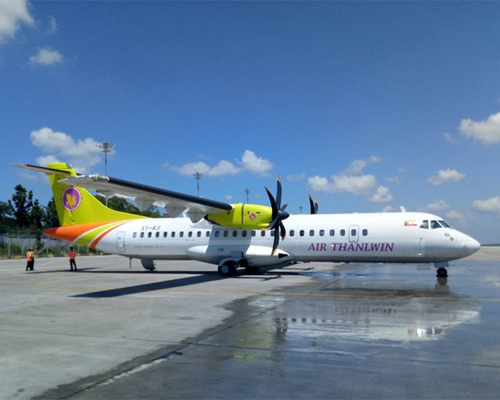 Mannyadanarpon (7Y) www.airmyp.com

Company Profile
Mann Yadanarpon Airlines (MYA) is a new start-up airline 100% privately owned by Myanmar nationals. It is the 9th airline to be formed in Myanmar and will provide scheduled domestic air services together with seven other airlines.
Aircraft Fleet
MYA has acquired two new ATR 72-600 aircraft on a sale and purchase basis with the first aircraft scheduled for delivery in early January 2014 and the second in the middle of February 2014. After two years of operation, MYA will acquire an Airbus A-320 aircraft on an operational lease basis for its planned regional operations.
The two ATR 72-600 aircraft will be registered in Myanmar with nationality and registration marks XY-AJO and XY-AJP which have already been assigned by the Department of Civil Aviation, Myanmar.
MYA's pilots are all qualified on ATR 72-212 and ATR 72-500 aircraft types. MYA has procured the services of two ATR 72-600 qualified type rating instructors from ATR to carry out line training for MYA's pilots until they are qualified for aircraft type rating on the ATR 72-600 before flying scheduled passenger flights.